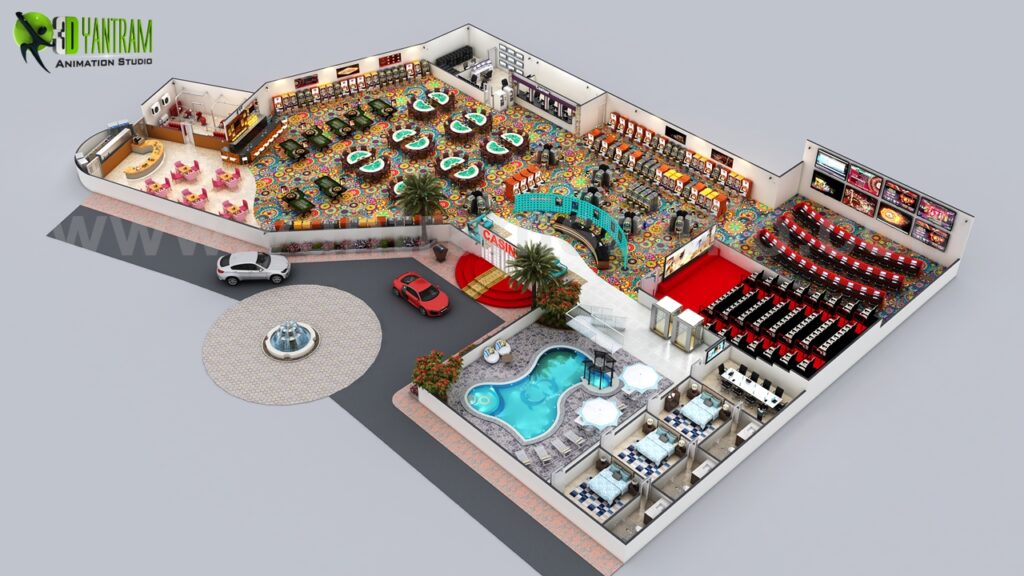 Project 3: Conceptual 3D Floor plan Design
Client: 832. Lisa
Location: Las Vegas, USA
A modern & unique conceptual design ideas of 3d Floor plan design are generated by talented and experienced team of Yantram 3d Floor Plan Design Studio. we had covered Gaming ares, poker table, gambling area, theater, slot machine, restaurant, waiting area, guest check in and check out area, Rest rooms with well designed swimming pool and royal entry with valet parking facility for guests. Royal carpet at poker table area looks very beautiful and attractive. We had developed each area with very detailing where you can capture any of area for design.
Interior, Architecture, Inspiration, signs, logo, ideas, web, art deco, typography, slot machine, online, modern, projects, Vintage, banner, beautiful, theme, playing card, poster, monte carol plan, contemporary, jackpot, galleries, fun, resorts, night, deck of cards, poker table, 3d floor Plan creator, 3d floor design, 3d floor plan design, virtual floor Plan, 3d home floor plan design, architectural plan rendering, floor plan design company, 3d virtual floor Plan design, 3d floor plan design ,3d floor plan design.