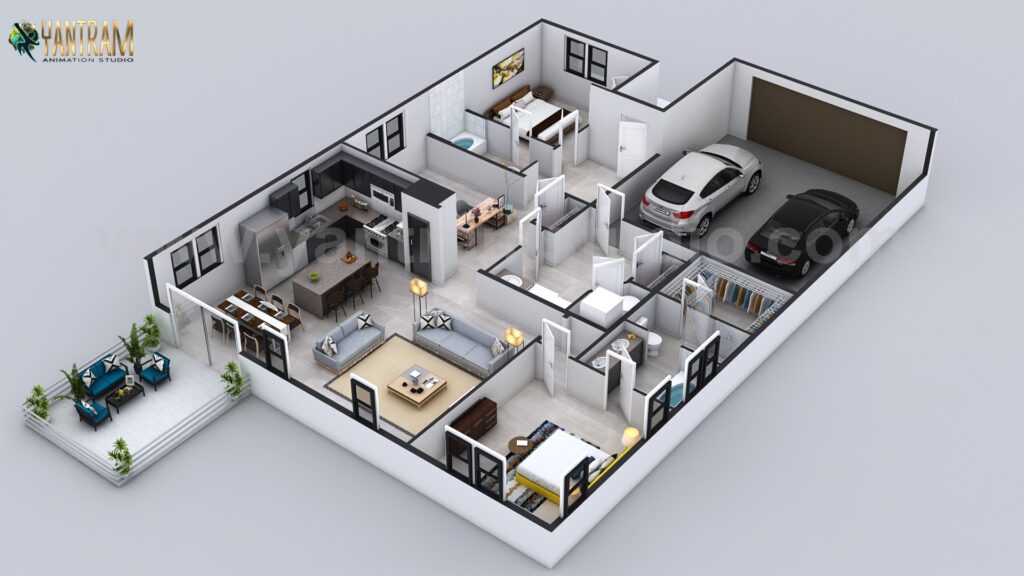 Project 181:- 3D Floor Plan for Residential house with garage slot
Client: – 833. George
Location: – Doha – Qatar

3D Floor Design for 3D Contemporary Residential Home with Garage Slot Master Bedroom with Outstanding Wooden Furniture and Bathroom, Beautiful Kids Room With White Flooring, Large Living Room And Dining Room, Large Island Kitchen With White Furniture Design, Outside Large Open Plan Living areas, Lounge, Kitchen, Dinner, sitting area, Pantry area by yantram architectural rendering companies.
architectural animation services, architectural studio, 3d animation studio, architectural modeling firm, architectural visualisation studio, architectural and design services, architectural rendering companies, 3d architectural design, architectural animation studio, 3d floor plan, 3d virtual floor Plan design, 3d home floor plan design, virtual floor Plan, 3d floor design, architectural rendering companies, floor plan designer, 3d floor plan design, residential, floor, plan, design, ideas, entrance, garage, sitting area, garden, office area, dining area, front view, kitchen, modelling, architectural, studio, home, house, pantry area, living room, bedroom, children room, estate, façade.